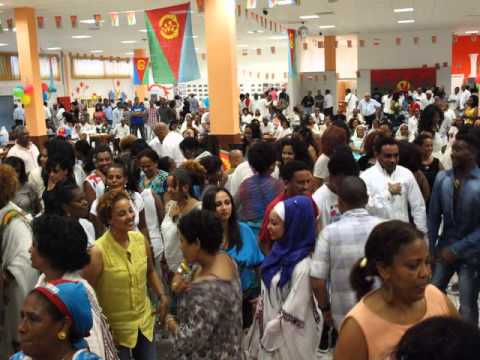 Asmara, 9 July 2013 – Eritrean community members in Italy conducted festival in Milan city from 5 to 7 of this month with patriotic zeal. The event witnessed participation of the Eritrean Ambassador to Italy, Mr. Zemede Tekle, heads of national associations and thousands of nationals, besides the staging of painting and pictorial exhibitions depicting the armed struggle for independence.
Mr. Hagos Gebrehiwet, Head of Economic Affairs at the PFDJ, inaugurated the exhibition, and conducted seminar focusing on the nation-building process and its challenges, the development accomplishments being registered in the Homeland in this regard, as well as the external conspiracies against the nation and the popular resistance against enemydesigns. He also said that the national development drive would never be sapped by hostile agendas but rather gain momentum thanks to the prevailing awareness of the people.
Moreover, the PFDJ official gave briefings pertaining to the ongoing activities of the nation targeting sustainable economic development, food security, social service, construction of residential complexes and mining.
Mr. Hagos pointed out that anti-Eritrea agendas have ended up in utter failure, in addition to noting the vitality of the demarcation of the Eritreae-Ethiopiae border in promoting peace and stability of the Horn region. He also answered questions from the seminar participants.
The nationals asserted that they would enhance role in State affairs, and participants who demonstrated active participation received awards and certificated of merit in the conclusion of the event in which Walta Cultural Troupe presented lively performances.